The Newport Beach area in California has seen a steady increase in rental costs over the past five years, making this coastal city a great financial choice for investment properties. The area is popular for its large variety of luxury real estate, distinctly Californian lifestyle, and access to the Pacific Ocean and Los Angeles.
Investment properties: buying to rent
For those looking to invest in Newport Beach homes, buying to rent in the current market is a solid investment. There has been a steady increase in the average rental cost for 2-4 bedroom Newport Beach properties since January 2018. The
median monthly rent
for a 2-bedroom home in Newport Beach averages $3,936; for three bedrooms, monthly rent averages $6,512; and four bedrooms average $13,437.
Over the past five years, rental income has increased an average of 1.5% each year. With the steady increase in median rent, real estate investors in Newport Beach homes can expect their investment income to increase between 1.2-1.7% annually.
Why choose Newport Beach?

Aside from the financial benefits noted above, Newport Beach is a great place to live. It's a city known for its boat-filled harbor and lively piers. The Newport Beach Pier and the Balboa Pier offer a range of activities for the whole family, including the Balboa Fun Zone, an old-school amusement park with a Ferris wheel and games. Newport Beach has top-rated schools and strong community leadership.
Activities
Residents, renters, and tourists are sure to enjoy the nearby beaches, including
Corona Del Mar State Beach
,
Newport Beach
, and the
Wedge
, where they can swim, surf, paddleboard, and parasail. The proximity to the Pacific Ocean provides opportunities to enjoy local marine life through whale watching tours, where guests can view whales, sharks, dolphins, and seals.
Outdoor enthusiasts can visit the
Upper Newport Bay Nature Preserve
for incredible bird watching. The Environmental Nature Center and
Sherman Library and Gardens
are perfect for plant photography. Newport Beach residents enjoy two golf courses:
Pelican Hill Golf Club
and Newport Beach Golf Course. Disneyland is only 20 miles away from Newport Beach for nearby fun, and Downtown Los Angeles is only 44 miles away.
Dining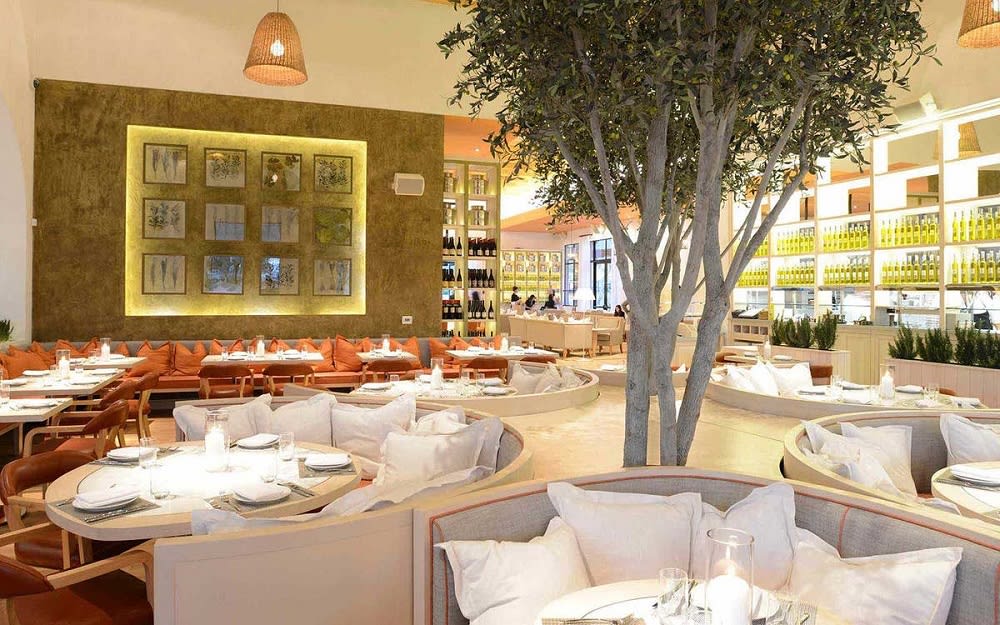 Photo courtesy of Fig & Olive Newport Beach
There are numerous dining options to explore around Newport Beach homes for sale. A few favorite culinary destinations include:
Shopping
Photo courtesy of Lido Marina Village
When ready for a shopping day near Newport Beach homes, be sure to check out
Fashion Island
,
Lido Marina Village
, and
Roger's Gardens
. Fashion Island in Easter Newport has 200 shops and restaurants, including the county's only Neiman Marcus. Lido Marina Village offers artisanal shopping, including Alchemy Works: Harbor House, a farmers' market on Wednesdays, a luxury consignment shop (The RealReal), and couture and contemporary fashion from brands like Elysewalker.
Rogers Gardens
showcases landscaping ideas for home and garden items, offers floral arrangements, and a very popular Halloween display every October.
Searching Newport Beach homes for sale?
When you're ready to consider a real estate investment in Newport Beach, reach out to trusted Newport Beach real estate agent
Annie Clougherty
for expert assistance. With a wide array of access and activities to do around town, you (and your tenants) are sure to enjoy yourself in Newport Beach.
Contact Annie and her team
today for more information on Newport Beach's dynamic market for real estate investing.